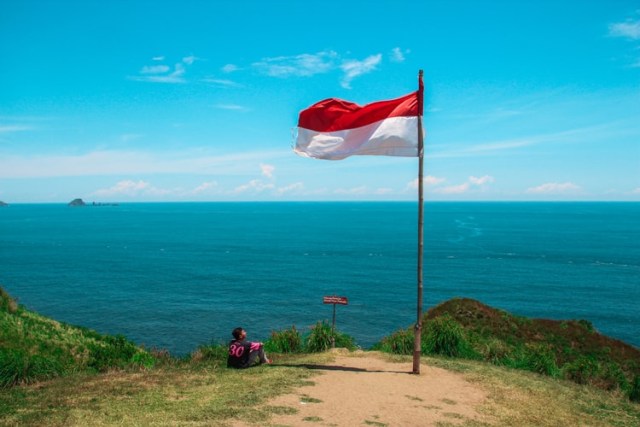 Oleh: Restu Lestari Wulan Utami (Kantor Berita ITB) | Editor: Tristia R. | Translator: Nadiya Syafia Shani
Sustainable Development Goals (SDGs) were first agreed upon in 2015 by member countries of the United Nations (UN). SDGs are basically a continuation of the Millennium Development Goals (MDGs) which were in effect from 2000 to 2015.
In general, the SDGs provide development goals, targets and indicators so that it becomes a benchmark for every country to carry out sustainable development, namely by balancing economic, social and environmental aspects.
ITB as one of the higher education institutions in Indonesia realized that Sustainable Development Goals (SDGs) are not only the government's obligation but also the obligation of all parties including universities. With this awareness, in January 2019 the ITB SDGs Network was formed and inaugurated by the Minister of National Development Planning (PPN/Bappenas).
On Wednesday (12/08/2020), ITB SDGs Network held the first Webinar Series through Zoom and broadcasted on the STKSR-Symphosis 2020 Organizer Committee YouTube channel. ITB SDGs Network presented five speakers, namely the Head of SDGs Netwok ITB Dr. Tirto Prakoso, M.Eng., ITB Regional and Rural Planning Lecturer Teti Armiati Argo, MES, Ph.D., ITB Senses and Geographical Information Science Lecturer Dr. Eng. Anjar Dimara Sakti, M.Sc., Head of SDGs National Secretariat Amalia Adininggar Widyasanti, MSi, M.Eng, Ph.D., and President Director of Clean Power Indonesia Jaya Wahono. The event was moderated by the Secretary General of the International Society of Sustainability Professionals (ISSP) Indonesia Maria Dian Nurani, ST, MSi.
SDGs Network ITB
Apart to his role as the presenter, Tirto as the Chairperson of the ITB SDGs Network stated the rationale for the importance of the SDGs Network in ITB. This is because ITB as a higher education institution can be said to have the most mastery of engineering science.
In addition, so far there has been no SDGs center in Indonesia that has implementative and innovative technology products. Most of the products of the activities of the existing SDGs centers are basically in the scope of policy and community planning.
With the establishment of this center, ITB hopes to help accelerate the achievement of SDGs in Indonesia faster and better, especially in terms of technology innovation and implementation. Based on Times Higher Education data in 2019, ITB can become a reference center for Indonesia and the world by focusing on ITB's potential in the field of innovation and climate change.
On this occasion, Tirto also said that the ITB SDGs Network itself emphasizes the seven goals of SDGs, namely SDG 2, SDG 4, SDG 6, SDG 7, SDG 9, SDG 11, and SDG 17. The activities carried out by the ITB SDGs Network itself are quite a lot. ITB SDGs Network becomes a facilitator of the latest ideas from ITB alumni and academics so that they can be implemented with the SDGs scheme in Indonesia,
Prerequisites for Achieving the SDGs
Vice Rector for Finance, Planning and Development Ir. Muhamad Abduh, MT., Ph.D., also gave his speech. Abduh emphasized that in order to achieve the SDGs there are three prerequisites that must be fulfilled. The three prerequisites are technology, innovation and value system.
Technology is a tool that can be used to accelerate the achievement of the SDGs. ITB has advantages in this field so that ITB can play a role from the technological side to achieve the SDGs. In addition to technology, achieving SDGs also requires institutions engaged in the SDGs sector for collaboration and synchronization.
In addition, there must be a value system in which the community must view sustainable life as a value that must be understood, interpreted, and applied in everyday life. One simple example is the habit of always putting trash in the trash can. This value system should have started to get used to it from an early age so that the values of a sustainable life are strongly embedded in each individual.
All the Goals in the SDGs are Interrelated and Strengthen Each Other
Amalia Adininggar Widyasanti who is also the Expert Staff to the Minister of National Development Planning for Economic Synergy and Financing, said that Bappenas has integrated the SDGs in the national development plan. Currently there are 123 national development targets that have been integrated with the SDGs. Funding for the implementation of development for the SDGs has been funded by the government, the community, grants from other countries, and Corporate Social Responsibility (CSR).
The legal protection for implementing national development that is in accordance with the SDGs is Presidential Regulation Number 59 of 2017 concerning the Implementation of Achieving the Sustainable Development Goals. In addition to integrating the SDGs with development plans, Bappenas has also prepared a "Roadmap 2030 for SDGs" which provides an overview of the possibility of achieving the SDGs if implemented in business as usual and business not as usual.
Amalia explained that there are no contradictory goals in the SDGs. The SDGs never negate one aspect by reason of encouraging another. On the contrary, one aspect of the SDGs is interrelated, strengthen each other, and contributing to one another. She gave an example using SDG 8.
If sufficient decent work opportunities are available, people's income will increase so that they can alleviate poverty which is SDG 1. If poverty alleviation occurs, the level of health will improve, which is SDG 3.
Amalia also emphasized that the achievement of the SDGs can be accelerated through the use of technology and innovation. According to Amalia, the COVID-19 pandemic has become a momentum to pursue innovation in technology and science to achieve the SDGs. Reflecting on the COVID-19 pandemic, the 2021 Government Work Plan will also focus on economic recovery and social reformation which are also closely related to the SDGs.
Science, Technology, and Innovation in Achieving SDGs at the Local Level of Indonesia
Teti Armiati Argo stated that the SDGs have actually been implemented as an effort to improve the welfare of the whole community. However, currently we are facing a condition where development accountability in one country is also compared with development accountability in other countries. Data from the SDG Index and Dashboard shows that at the Southeast Asia level, the progress of the SDGs in Indonesia is ranked 5th.
Teti said that the existence of science, technology and innovation will greatly help accelerate the achievement of SDGs. Science, technology and innovation are still identical with institutions such as higher education institutions. In fact, science, technology, and innovation can be disseminated to people who want to solve problems around them.
Science and technology that have been successfully applied in developed countries may not necessarily be applicable in Indonesia, especially at local levels. This cause to achieve the SDGs at the local level requires local science, technology, and innovation.
Teti emphasized that sustainable development requires data. Achieving the SDGs also requires routine, periodic, timely, good quality and reliable data. Unfortunately, Indonesia still has limited data. For example, to achieve SDG 11 (sustainable cities and communities) which can be applied in Jatinangor.
In fact, we are not ready to implement SDG 11 at the local level, in this case Jatinangor, because there is no calculation of air pollution on an urban scale. In this case it is very clear that the SDGs require the presence of science. To calculate the quantity of pollution, certain technology is also needed.
Integration of Multidisciplinary Geospatial Products to Accelerate SDGs Achievement
Anjar Dimara Sakti, opened his presentation by reminding the webinar participants of strategic issues at local, national, regional and global scales. As predicted by experts, Indonesia will face a demographic dividend in 2020-2030. In essence, we must realize that the demographic dividend is a golden opportunity for development.
This demographic dividend opportunity cannot be predicted when it will happen again. Policies for the next 5-10 years will determine Indonesia's condition in the future. Therefore, policy determination must be supported by accurate data.
One of the data that can be used to determine policies related to SDGs is sustainable geospatial data. Geospatial data can be used to monitor water demand for the long term global agriculture.
By using this data, supported by other data, policy makers can take steps on how to increase agricultural productivity.
For example, agricultural commodities that initially can only be harvested once a year can be modified so that they can be harvested three times a year. If this can be done, the fulfillment of food needs can increase.
Currently the world is also busy discussing climate change caused by increased carbon emissions. Forests, including mangroves, can be used in climate change mitigation because they have the ability to absorb carbon emissions. However, currently, not a few forests have been damaged, thus losing their potential to mitigate climate change.
According to the Geospatial Information Agency (BIG), Indonesia's coastline is very long. Unfortunately, not all beaches can be planted with mangroves because mangroves require certain conditions to grow.
Geospatial data can be used to analyze the potential for future mangrove planting. Locations suitable for planting mangroves are potential locations for climate change mitigation.
This geospatial data involves multidisciplinary science. The data needed are for example statistical data, remote sensing results, and simulation models. Monitoring the SDGs also requires the collaboration of many parties from various disciplines and from various stakeholders. This means that to accelerate the achievement of the SDGs, sustainable geospatial products are needed.
Sustainable Local Empowerment by Utilizing Renewable Energy
Data from the Indonesian Central Statistics Agency in 2019 states that there are fourteen thousand villages in Indonesia that have not yet enjoyed electricity. This causes development in various sectors to be often hampered due to lack of electricity. Most of the areas that were not yet electrified were remote areas.
To answer this problem, Jaya Wahono presented a business proposal on the potential for reliable electricity to various underdeveloped areas in Indonesia while providing cheap internet access, integrated waste management and providing clean water in one sustainable project.
"Providing electricity to underdeveloped areas is not only a challenge but also an opportunity," said Jaya. He explained that so far electricity is still difficult to distribute to various remote areas in Indonesia considering that Indonesia is an archipelago even though Indonesia is actually rich in various energy sources, both fossil and renewable energy.
As a result, the supply of electricity to the regions is not reliable and evenly distributed. This is reflected in the very low index of human growth in eastern Indonesia and the small island areas.
The impact of the absence of electricity was particularly pronounced in the NTT region, one of the areas that Jaya and the team chose to conduct a case study. One of the impacts is that many children cannot study from home during the COVID-19 pandemic because access to reliable electricity and cheap internet is still limited in urban areas.
Some of the solutions offered by Jaya are the use of biomass-producing plants planted by the community as a primary energy source to generate electricity.
The electricity generated from the biomass can be sold to PLN and then PLN applies it to the community at a subsidized price so that they can take advantage of productive activities and can provide cheap internet to the poor.
Waste that is not properly managed in the environment can also be processed into electricity without being sold to PLN. Especially for processing dirty water or sea water into clean water for drinking, cooking and washing clothes so that the health of the poor is well preserved during this pandemic.***