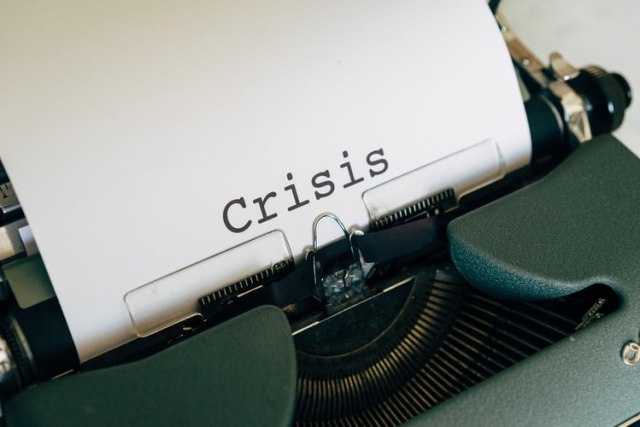 Oleh: Nadiya Syafia Shani, Tristia Riskawati
The COVID-19 pandemic seems to be paralyzing many fields. The planning of Sustainable Development Goals (SDGs) in Indonesia is no exception. However, counterintuitively, the Head of the Central SDGs Secretariat of Bappenas Amalia Adininggar Widyasanti, M.Si, M.Eng, PhD, said that the pandemic is actually a golden momentum to transform.
"This pandemic condition provides an opportunity to carry out economic transformation, national health reform, national protection system reform, and national disaster resilience system reform," Amalia said in the Joint Solution to Restore the Built Environment Post-Pandemic COVID 19, Thursday 10 September 2020.
This webinar is a form of collaboration between the School of Architecture, Planning and Policy Development (SAPPK), ITB and SDGs Center ITB.
Apart from Amalia, the speakers in this webinar include Prof. Arief Anshory Yusuf (Professor of Economics Unpad, Founder of SDGs Center Unpad), and Dr. Tirto Prakoso, M.Eng (Chair of the ITB Bioenergy and Ministry of Energy Engineering Study Program, Chair of the SDGs Center ITB). This event was moderated by lecturer of Regional and Rural Planning, Ir. Teti Armiati Argo, MES., Ph.D.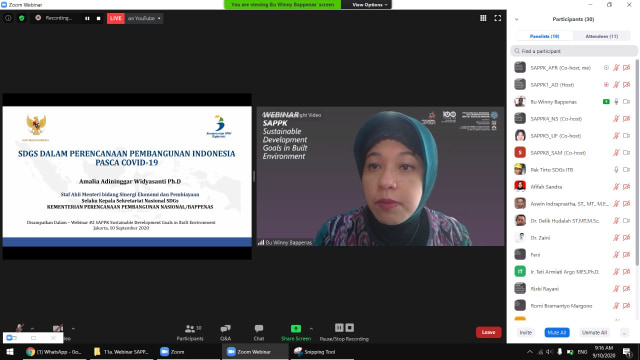 Amalia said COVID-19 makes us realize that national disasters are not limited to volcanic eruptions or other natural disasters. The plague was arguably a national disaster. "Covid shows that our national health system is not as good as we thought," she concluded.
Considering the impact of Covid-19 is equivalent to a major disaster or war, a large-scale economic recovery program with the government as the main actor is needed. The government has made economic recovery targets that have been set in the 2020-2024 RPJMN (National Medium Term Development Plan).
Amalia explained, specifically in 2020, the program revolves around the curative response to COVID-19. Meanwhile, in 2021, the government will implement economic recovery programs.
This ITB alumni also has hopes for higher education. "We hope that the role of Higher Education (PT) to continue to accelerate post-death growth, we will welcome if PT is willing to help."
Arief Anshory Yusuf: SDGs economic growth represents prosperity
In the second session, Unpad Professor of Economics, Arief Anshory Yusuf, said that sustainable and inclusive economic growth is central to achieving the SDGs. For him, the economy in the SDGs talks about a long-run horizon.
"Economic growth is not only about the size of the economy, it is not only calculated from CIGXM (Capital, Investment, Government Spending, Export, Import.red) but also about welfare," said Arief.
In theory, per capita economic growth will actually be worth 0 in long-run growth. In fact, things that are also central to achieving economic prosperity are knowledge, productivity, innovation, science and technology, and research.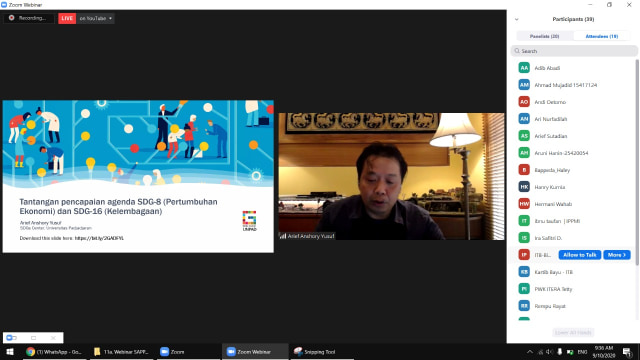 "The factor that can increase the growth rate per capita is the existence of innovation, and humans are the main players in creating innovation," said Arief.
Arief concluded that the solution to improving Indonesia's economic conditions is to focus on developing the RnD sector. He also emphasized the importance of equal opportunity and justice for economic growth.
Tirto Prakoso: Renewable energy faces challenges during a pandemic
The pandemic has had a significant impact on Goals 7, such as the decline in modern and renewable energy services and reduced efficiency in energy use. "The decline in demand for energy sources (in the form of petroleum) has caused world oil prices to reach their lowest level," explained Tirto.
The price of renewable energy, which is still relatively expensive, has made it rare for people to choose to use it. Especially during a pandemic. Pandemic conditions have also led to restrictions on the number of passengers in public transportation, causing decreased efficiency.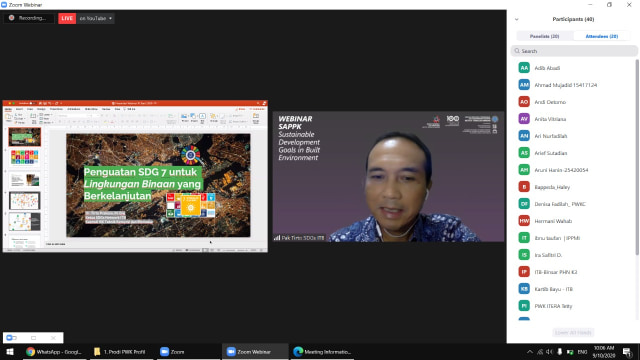 "Pandemic conditions and maintaining distance increase people's preference to use private vehicles, this causes increased air pollution," said Tirto. "The number of jobs, lessons, and meetings that are online provides good potential in reducing carbon emissions."
The solutions that Tirto offer include investing in new and renewable energy. In addition, the government should strengthen internet infrastructure so that online meetings are not hampered. According to Tirto, the government should also invest in logistics and transportation infrastructure so that basic commodities can be distributed properly. ***